Toronto philanthropist attempts world record, hopes to empower homeless women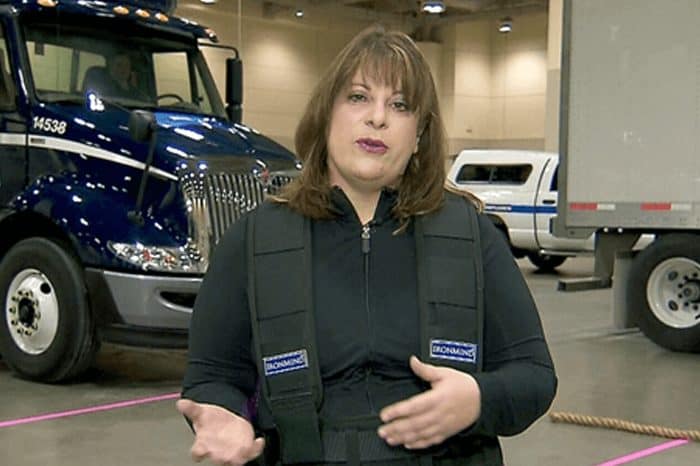 By: Corinne Ton That. Published by: CTVNews.ca
TORONTO, ON— When she was a homeless teenager, Lia Grimanis didn't think she'd live to be 21 years old.
She turned 42 on Thursday, and decided to mark the occasion by attempting to set a Guinness World Record by pulling a 7,700-kilogram truck a distance of 30 metres.
The feat is meant to inspire and empower homeless women and girls to persevere
"Pulling the truck actually sort of symbolizes that — just continuing and persevering and going through the difficulties of getting through that, and getting to where you need to go — because everyone can get there," she told CTV's Canada AM. "They can make it through and they can survive."
In her late teens, Grimanis fled from an abusive home. After couch-surfing for a year, she ended up in the YWCA.
"They put me onto welfare, they got me into housing, and I was able to start really moving forward," she said, suggesting that ending up there was the best thing that ever happened to her.
When she left the shelter, she made a promise to herself: that she would come back and be an inspiration to women struggling through poverty.
"Nobody ever came into our shelter to say: 'Look where I am now, and I was there, you can get here,' so the only proof that we had of what our future would be, was just all the people who came back and still needed help," she said.
After leaving the shelter, Grimanis founded "Up With Women" -– a Toronto-based organization dedicated to helping women and children overcome poverty and homelessness.
In her record attempt Thursday morning, spectators inside the Metro Toronto Convention Centre cheered as Grimanis pulled a truck using a harness attached to its front bumper.
"My legs are burning!" she shouted, as she took one step after the next, tugging on a rope stretched in front of her.
After about two minutes, and seemingly crossing the 30-metre mark, she collapsed on the floor before quickly getting up again. As she stood up, spectators began singing 'Happy Birthday.'
"I still have my legs," she exclaimed, out of breath. "I know it's my birthday, but this is all about everything that we can do for the other women who need help now."
Grimanis will have to wait for Guinness to verify whether or not she's set the record for the "Heaviest Vehicle Pulled 100ft By A Woman." But in the meantime, Maple Leaf foods and Canada Cartage have already said they will match donations, up to $20,000, to her organization Up With Women.