Quality, safety, and peace of mind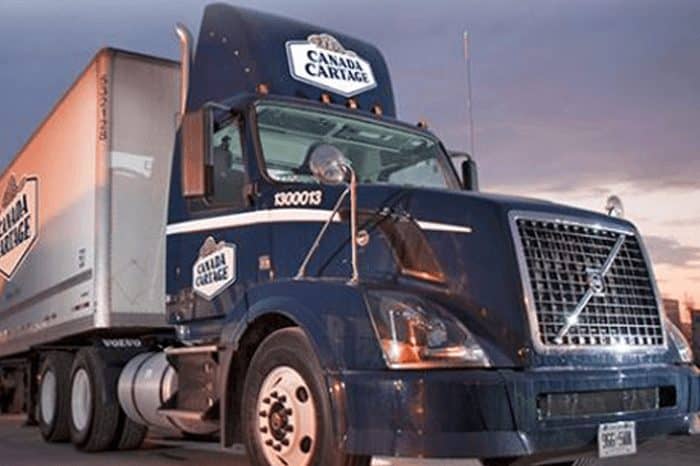 By Mark Golombek. Published by Business in Focus
If you live in Canada, Canada Cartage is a name you will likely recognize, as it is probably one of the most prominent symbols of Canadian business. Since 1914, the company has been operating as a specialized provider of fully outsourced trucking fleets and supply chain solutions. Its senior VP David Zavitz tells us about this company that currently has a fleet of over 4,000 trucks and trailers along with 3,500 employees and continues to grow.
Canada Cartage was started in 1914 in Toronto by a man named Robert Leslie with a horse and a cart. He approached companies suggesting that he deliver their goods, but he would brand the cart with the customer's logo. Trucks have long since replaced horses, but the business model has not really changed. Simply put, it is called fleet outsourcing. Canada Cartage takes over the trucks and drivers for its customers, but operates them as a 100 percent dedicated fleet for the customer. Many customers choose to have their logos remain on the trucks, and to have Canada Cartage drivers wear the customer's uniforms. So companies get all the benefits of their own private fleet, without actually having to operate it themselves.
For the first sixty years of its existence, the company operated primarily in Ontario. However, in response to customer demand, the firm expanded to Quebec in the 1970s. "They wanted to use our services and have a consistent operating model in more than one region of the country, so the expansion was really driven by our customers," Mr. Zavitz explains. "This customer-driven demand has continued ever since, and we now have terminals and customer-located fleets in every major city from coast to coast. This makes us the largest provider of dedicated outsourced fleets in Canada, with over $500 million in annual revenues."
In 2014, the company will be celebrating its one hundredth anniversary and is planning a host of employee events across the country with breakfasts, bands, barbeques and, in the summer, a large gathering in Toronto, where the majority of its staff and former staff members reside. Throughout the year, specially branded trucks will act as rolling billboards through all the major cities in Canada, sharing the history of the company on their sides.
To be sure, Canada Cartage is one of the most recognized brands in Canada; but in Toronto, it is an icon. "Our main terminal used to be on the Queensway in the west end of the city," says Mr. Zavitz. "You could see it from the Gardiner Expressway as you were driving into downtown Toronto. We had a huge Canada Cartage sign that you could see from the highway, so for people in Toronto in the sixties and seventies, it was a well-known icon in that era."
Many people recognize the heritage logo with the beaver, but few may know what the company does. Fleet outsourcing caters to companies who don't want the complications involved in operating their own fleet of trucks. Clients still get all the benefits of a private fleet but Canada Cartage takes care of all the details and hassles. "We will acquire the equipment, hire the drivers, manage the drivers, dispatch the trucks, and take care of all regular maintenance and repairs. It is a very efficient way for companies to have their own fleet, and we get the costs down as low as possible. We also have GPS technology on all the trucks, as well as supply chain engineers who will re-route things as needed and put in continuous improvement programs."
There is logic behind this approach. Companies that have their own private fleets are not transportation companies; trying to be a trucking company on top of the core business is not very effective. An example of this is evident in the way that some companies' seasonal needs at certain months of the year are busier than others. Canada Cartage's model provides them with a dedicated fleet of trucks at their facilities every morning, along with the drivers. During those peak times, Canada Cartage provides more drivers and trucks as needed, eliminating a reliance on rental trucks with drivers who don't necessarily know the routes.
For companies to find their own drivers is another challenge. There is currently a driver shortage that is predicted to get worse as the years go by as not enough young people are getting into the truck driving sector. For a fleet operator, finding suitable employees can represent a substantial cost from a Human Resources and recruiting standpoint. The risk is that a company will have unfilled driver positions, meaning trucks sitting idle and deliveries not being made.
"This is one of the ways that we take the hassle out of running a fleet," shares Mr. Zavitz. "The drivers that we hire, train and manage become a part of our customers' organization. For example, Canadian Tire is a big client; our drivers go directly to the Canadian Tire distribution center, get their orders for the day, get in their Canadian Tire branded vehicle and do deliveries during the day and then end the day at Canadian Tire. In this way they are an extension of the customer's operation."
Canada Cartage is always running and ready to go, 24 hours a day, 7 days a week, and even delivers on Christmas day, whereas a private fleet may not have that kind of flexibility. Also, because the company is the one acquiring trucks, customers are not tying up their capital through buying and replenishing a fleet of trucks or having to worry about maintenance.
The company has one of the largest fleets of trucks in Canada. It maintains a large in-house safety and compliance group along with a strong maintenance and procurement team. In fact, in 2013 National Director of Maintenance John Haines was named the Canadian "Fleet Maintenance Manager of the Year" winner by Volvo Trucks Canada. A primary focus of the company is on fuel management, which is a huge expense for its customers as well. To this end, the company has met the criteria to be a member of the SmartWay Transport Partnership, a joint American and Canadian approach toward fleet operations. This organization has the goal of reducing pollution from the freight transportation supply chain and saving fuel.
Part of this fuel saving comes from the "No Idling" campaign underway with drivers. "With over 2,500 drivers across Canada, if each driver can reduce their truck idling time by only fifteen minutes per day, in a full year our company will reduce almost 8,000 days of wasted fuel and damage to the environment. That's the approach we take. If it's good for the environment, then it's good for the bottom line as well."
Canada Cartage deals with a lot of precious cargo. The five main industries it caters to are building and construction products, retail, food and beverage, healthcare, and gas and chemical. Each has its own specifications and standards of delivery and storage.
In the healthcare sector, Canada Cartage works for companies such as Booth Centennial, which delivers to hospitals and long term health care facilities. It delivers linens, surgical supplies, uniforms, and more – items with very strict sanitation requirements. In this case, the trucks are partitioned in order to carry both new and soiled linens and uniforms separately. The process has to be very tightly managed in order to avoid cross contamination.
Building and construction companies require very specialized equipment that is customized to the products that are being hauled. Canada Cartage works with companies who make daily deliveries of lumber, bricks, shingles, steel, windows and glass, and more. "Building and construction firms work with us because we are well capitalized and flexible to their needs. We have the financial resources to acquire specialized equipment like truck mounted forklifts, or flat deck trailers with large cranes or booms on the back so items like shingles can be lifted on to and off of the trucks. And because construction is seasonal, they like our ability to flex up and flex down the size of their fleet to meet demand."
Seasonal flexibility also comes into play when transporting goods for retail businesses like Loblaw, Canadian Tire or Shoppers Drug Mart. For example, on any given day, the company has around one hundred trucks on the road for Canadian Tire. But if store demand for certain products spikes due to a weather event, like a snowfall and people suddenly rush out to buy snow shovels, sixty additional trucks can be deployed to the stores on less than 24 hours notice. "That's the kind of flex capability that retailers need, and that's what we deliver for them."
Delivering for food and beverage companies presents different challenges and requires different capabilities. "A lot of times we are delivering into the backs of restaurants and into coolers. It's a very labour intensive type of job. You need to be able to recruit drivers that are willing to slug a keg of beer up two flights of stairs. It's a very different type of delivery that requires highly trained drivers. It's difficult for private fleets to recruit and retain these types of drivers."
The company also deals with compressed gasses and propane, which are very hazardous materials. Safety, risk and liability are the key factors at play here. Canada Cartage has to meet strict safety and compliance standards in this industry before it is allowed to be a carrier. "Gas and propane customers will do comprehensive audits of our recruiting, training, safety and compliance procedures. We have to meet a very high level of safety and compliance to be able to work with them, and we have done so for many years," shares Mr. Zavitz.
Indeed, Canada Cartage is responsible for the effective and efficient management of its fleets, the professionalism that goes along with adequately serving its client base, and upholding a stellar reputation that has been built over one hundred years. It is a proud Canadian company, as diverse as the land it services. One hundred years is a milestone that is a testament to the quality of its business.