Technology Plus The Human Touch Add Up To Customer Satisfaction In E-Commerce Home Deliveries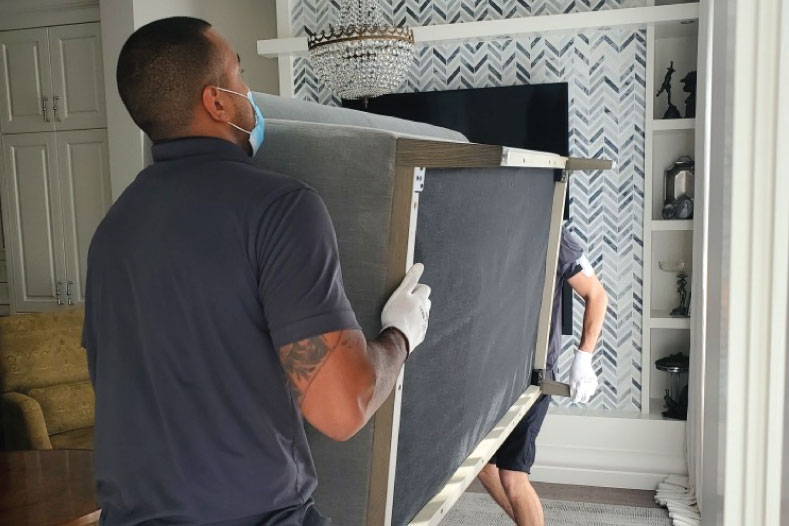 As a national provider of eCommerce home delivery and white glove solutions, Canada Cartage is the "final touch" in final mile deliveries. Specializing in the delivery of oversize, bulky items including appliances, furniture, patio sets, and fitness equipment, we know that we are the brand ambassadors for our eCommerce and retail customers. A smooth delivery experience can make – or break – the consumer's overall satisfaction with their purchase.
Technology Drives Efficient Planning and On-time Delivery
While "fast delivery" is a critical success factor in parcel deliveries that are dropped on a doorstep, "on-time delivery" (OTD) is what's important for larger items that are delivered directly into a consumer's home. Getting OTD right requires leading-edge technology and logistics planning to ensure that products arrive when promised, and when the consumer is home and able to receive them.
Final mile deliveries are more complicated, and normally the more expensive part of the supply chain. With high volumes, and a short time to plan delivery routes, these dynamics drive complications and higher expenses.
Canada Cartage offers technology solutions that give consumers the real-time track-and-trace information that we have all come to expect when ordering products on-line. We either use our own technology platform of choice, or we will integrate with a retailer's preferred home delivery system, including Descartes ShipTrack, Clear Destination, DispatchTrack, and others. These platforms offer:
Efficient order management processes for administrators, dispatchers and drivers
Optimized route planning
Barcode scanning of products at every step of the pick-up, cross-dock, and delivery process
Estimated delivery dates and times for consumers
Real-time on-line access to shipment delivery status for both consumers and customer service representatives
Improved inventory management information for our customers
The "White Glove" Treatment Drives Customer Satisfaction
While technology plays a key role in OTD, delivering a first-rate customer experience requires a human touch. Our "white glove" delivery services are designed to provide excellence in care, service and attention. These services can include:
A two-hour delivery time window, which is communicated to consumers the day before the delivery is to happen
Online real-time tracking and ETAs
Delivery notifications on the day of delivery
Wearing gloves when handling unboxed furniture, as well as booties inside the home to protect carpets and flooring
Product assembly for items such as beds, sectionals, tables, and other furniture
Product placement and arranging, such as positioning furniture on an area rug
Attaching felt pads to furniture legs that are being placed on hardwood
Light touch-up and furniture medic services as needed, as well as upholstery steaming
Removal of packaging materials and general tidying of the room
Friendly, cooperative staff to ensure a great customer experience
By combining leading-edge technology and logistics planning with a high level of customer care and personal attention, Canada Cartage helps retailers and eCommerce companies to achieve an outstanding customer service experience from start to finish.