Mr. Leslie's one-truck pony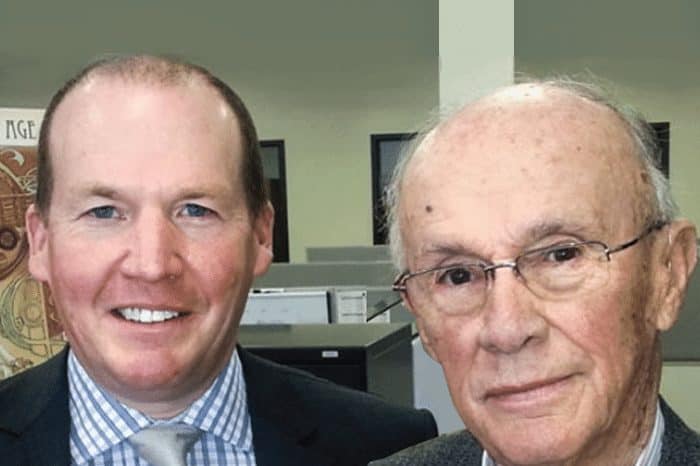 By Teona Baetu. Published by Today's Trucking.
What do baseball legend Joe DiMaggio and Canada Cartage have in common? Lots. DiMaggio, born in 1914 to Italian immigrant parents, went on to play 13 seasons with the Yankees, where he achieved one of the most amazing feats in baseball history: a 56-game hitting streak, in 1941. That record remains unequalled. (Some might argue of course that his biggest feat was in fact marrying Marilyn Monroe.)
Also in 1914, a Scottish immigrant a bit farther north—in Toronto,—decided to buy a horse and cart to deliver goods for local businesses. He called his venture Canada Cartage.
Robert Leslie had immigrated to Canada in 1902 and in 1914, he was working as a sales rep for the Brunswick Billiard company. That's when he identified the need for a delivery service. And Leslie went on to do for trucking what DiMaggio did for the Yankees.
"When Robert Leslie started this company he kept his day job. He wasn't sure this thing was going to fly," Canada Cartage President and CEO Jeff Lindsay said.
That one-man; one-horsepowered operation has grown into 4,000 trucks with 3,600 employees coast to coast and over a billion dollars in annual revenues. Canada Cartage is the 6th largest for-hire carrier in Canada, according to the Today's Trucking Top 100 list. It is outsized by Bison, Day&Ross, TransX, The Mullen Group and TransForce.
In late February, Canada Cartage's remarkable development was summed up succinctly by Brampton, ON., Mayor Susan Fennell. She was speaking at a company celebration at Canada Cartage's Mississauga facility.
"Canada Cartage started moving product in 1914. Think about all the small and large products that need to be moved; if government had thought about how to move people since 1914, we'd have subways everywhere today and we wouldn't be sitting here still trying to find a plan.
"Thank goodness the private sector ran the trucking industry: If it was the government moving goods and services we'd still be making plans, and products would be piling up."
One of Robert Leslie's first loads was stained glass windows that had to go from Toronto's downtown docks to the city's grand new castle: Casa Loma.
In those days, the wagons were often branded with the customer's logo as opposed to Canada Cartage's branding, a practice the company continues today.
At first, Leslie took care of sales and customer relationships and his wife Mary ran the day-to-day operation. They added motor trucks to the horse-drawn fleet in the 1920s. By 1929, they had 14 horses and wagons and 20 motorized trucks and were becoming one of the largest delivery fleets in the city.
That's when their son Rodger became general manager and took over the day-today operations. It was 1930 and many Canadian businesses were struggling through the Great Depression.
One of the primary reasons for Canada Cartage's survival was the nature of their customers. Grocery stores, bakeries, potato distributors and other food-and-beverage companies thrived better than most business. Today, Canada Cartage works with Canadian Tire, Loblaw, Shoppers Drug Mart, Maple Leaf Foods, LCBO and others.
Rodger became president in 1946 after his father died. Things started to look better in the '50s as long-haul shipping of goods started shifting from railways to roads.
The first section of Highway 401 was finished in 1948, and the highway was expanding across the province, so shipping by truck became more efficient. The company grew, adopted the iconic beaver logo in 1950 and moved to a larger terminal in the west end of Toronto in '54.
The third generation of the Leslie family joined the firm around this time. Fred Leslie, Rodger's son, signed on in 1952 as an office clerk.
"I started officially in 1952, but I went on runs up to Barrie with the drivers when I was as young as 12; it was a way for my mother to get me out of the house," he told Today's Trucking.
He learned the business by working in many departments both in administration and operations until he became co-owner in 1974, when he partnered with the company's then VP of finance, Bill Lindsay.
Their sons, Rodger Leslie (the fourth generation of Leslies, not to be confused with his grandfather) and Jeff Lindsay took the reins in 2001.
That's another thing that the government could learn from Canada Cartage— and trucking in general—Brampton Mayor Fennell mentioned at the 100th birthday party: the relationship between people and business.
"In government they almost have warfare that you shouldn't hire your friends and colleagues, but in the private sector business you see the importance because people know who good people are."
Some companies, Fennell said, actually offer bonuses for attracting friends or family.
"I think new employees marvel at the interconnected relationships in this company and it's what makes the company really strong. Fathers, sons, grandsons; we have multiple generations, husbands and wives," Lindsay pointed out.
"Mitzee Tanner's here," he added.
Tanner started with the company as a receptionist right after she graduated from college in 1985.
"I've had the opportunity to learn every facet of this department and I've had some excellent mentors over the years," Tanner said.
Not only has she been there a long time, but her uncle, Robbie Major, ran the firm's Martin Grove shop for years. She's now married to Jeff Tanner, who also works with the company. Between the two of them they have some 60 years' experience. And if the relations didn't run deep
enough yet, Jeff 's father was also a senior ops leader with Canada Cartage.
"Five hundred of our employees have been here longer than 10 years and that's in an era when people are transient and move from job to job, so that's an accomplishment. That's the backbone of the business," Lindsay said.
One of the celebrants at the centennial party was almost as old as the company itself: Mississauga Mayor Hazel McCallion. She turned 93 this past Valentine's Day.
"What a record though, for a company that started with one horse and cart and one individual," she said. "It just shows what can be accomplished by one person and maybe today that message can be impressed on our young people that one person can make a big difference in the world."