7 Things To Consider When Selecting A Final-Mile Delivery Provider For Big & Bulky Consumer Goods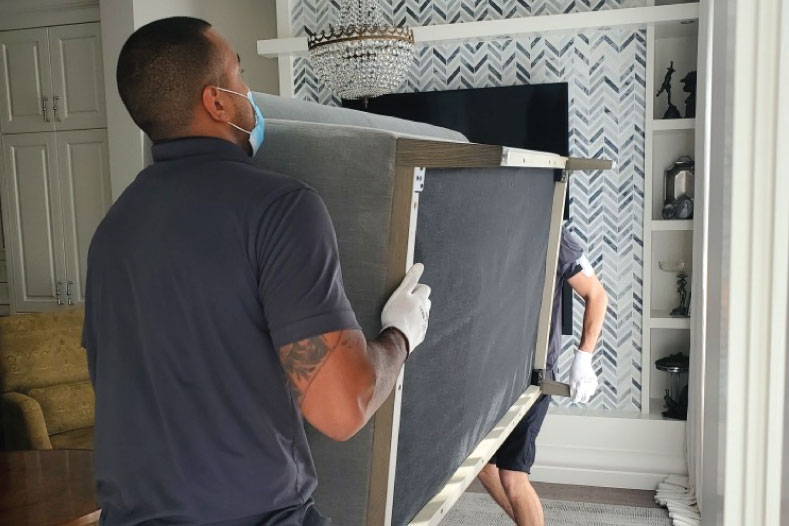 COVID-19 dramatically changed consumer buying habits, with an explosion in e-Commerce online ordering and a corresponding rise in the home delivery of those orders. The fastest-growing home delivery segment is big, bulky items (or "non-conveyables") such as furniture, appliances, and fitness equipment. Consumers expect delivery within days, whether the merchant is located on the other side of town or across the country.
The challenge for retailers is to a) ensure prompt delivery, b) provide outstanding customer service from order through delivery, and c) do it at the most cost-effective rate possible. Picking the right final-mile service provider to deliver on all three of these essential factors is critical to being competitive in the e-Commerce home delivery game for big & bulky products.
What should you look for in a final-mile delivery provider with your brand name and future repeat sales riding on timely and smooth home delivery? Here are seven key factors to consider when picking your logistics partner:
1. Local Facilities and Customer Service
To optimize the final mile delivery process, look for a carrier with local cross-dock or warehouse facilities. They can receive and hold your inventory until the customer's requested delivery date or if you need to store products and build a route with multiple deliveries on the same day. This can save you money on delivery costs.
2. Technology and Customer Communication on Deliveries
Consumers want to know where their order is. And so do you! Your final mile carrier should offer order tracking for you and the consumer. The system should give you complete visibility and control over the deliveries. And for the consumer, online tracking access helps them know their shipment's ETA.
3. Technology Integration with Your Systems
Taking the time to integrate your order management system with your carrier's transportation management and warehouse management systems pays off. It will save you and the carrier time and cost through automation and give you instant access to view inventory levels and delivery schedules.
4. Delivery Rates
Be wary of final mile delivery service providers offering their services for a price below market rates. Carriers have similar cost structures – labour, equipment, fuel, maintenance, facilities, safety programs, and technology. If a rate is too good to be true, it may be because the carrier is cutting corners in some of these crucial areas. Beware of illegal "Driver Inc." firms that do not provide their workers with benefits, pensions, sick leave, or disability protections.
5. Volume Surge Resources and Equipment
For peak shipping periods, ensure your last-mile provider has the resources and infrastructure to handle large volumes of orders. Volume surges are a fact of life in retail. Ensure your logistics provider has a track record of successfully meeting high volume demands with other customers.
6. National Consistency
Many final mile companies claim to offer national delivery services, but often they outsource deliveries to smaller, regional players. This can leave retailers with a hodgepodge of inconsistent processes, delayed billings, and broken communication between parties. If you need national service, select a national provider with facilities and staff across the country.
7. Carrier Financial Stability
Many small start-up delivery companies have come to market in the past few years with the boom in e-Commerce and the demand for more final-mile deliveries. Some will last, and some will disappear. To protect your brand reputation and avoid being caught up in unexpected business closures, it's good business to partner with a carrier with an established track record and financial stability.
If you're looking for a final mile delivery partner that can deliver all of the above, we can help. Canada Cartage has been in home delivery for oversized consumer products for decades. With leading-edge technology, experienced logistics planners, and a high level of attention to customer care, we can help your company to deliver outstanding customer service from start to finish.