Why shippers can't afford not to convert their private fleets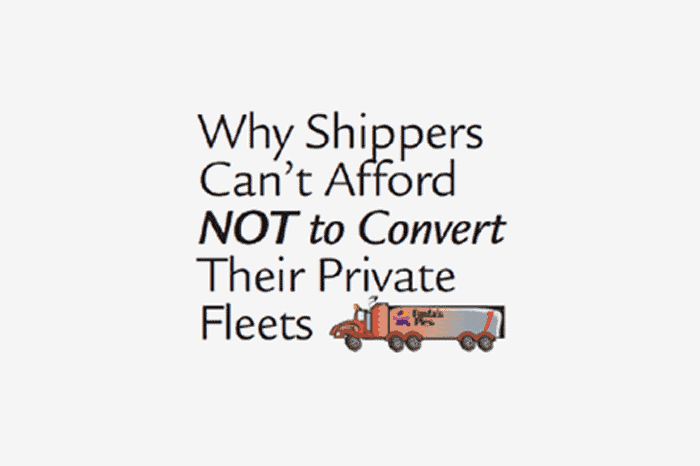 Published by Logistics Quarterly
Private fleet operations might initially seem like a good freight management solution for companies concerned about cost, capacity and control. However, for many—particularly mid-sized companies —that simply isn't the case. This article takes a look at six popular myths around the supposed benefits of maintaining private fleets.Unless you've got the purchasing power of a Fortune 500® company, the economics of private fleet ownership for medium-sized businesses do not justify the investment. Companies should focus on their core competencies and leave transportation and supply chain management to the experts rather than spreading resources thin and mismanaging the complex issues involved in moving freight.Billion dollar businesses are developed using flexible shipping and logistics solutions for a reason! The majority of firms just don't have the resources to manage costs and meet fluctuating volume demands, particularly given today's ever-shrinking capacity due to the near impossibility of attracting and retaining qualified drivers.Private fleet managers for these firms are simply trying to figure out how to transport freight from point A to point B, never mind focusing on customer service, liability, fuel costs, training, the capital costs associated with a trucking fleet and other expenses. This article reviews some popular myths regarding dedicated transportation services and discusses why mid-sized companies are tending toward outsourcing their transportation needs.
Myth #1: Running a private fleet makes more economic sense
For some of the largest firms, that may be the case — the behemoths with the size to achieve economies of scale on costs like fuel, equipment and insurance. But for everyone else, especially mid-sized businesses, the headaches and unpredictable costs of operating a private fleet can make it unpleasant and — worse — unprofitable.Mid-sized firms can't match the buying clout of the big guys, but they're up against the same financial pressures as the major carriers. Not a winning proposition. There is also that not-insignificant issue known as the bottom line. The capital costs of carrying transportation assets on the books loom large when there are better investments with better returns that can be made for most firms. If the difference between the cost of the fleet and the cost of handing it to a dedicated carrier is less than the shipper's operating margin, the private fleet makes no economic sense at all. Add in the increasing challenges sparked by changing hours of service (HOS) regulations and Environmental Protection Agency (EPA) requirements and you have a strong argument for outsourcing to a dedicated carrier.More threatening than most realize is the oft-overlooked issue of liability. Typical liability insurance is not only dauntingly expensive but is rendered virtually irrelevant by sky-high deductibles. At the same time, vehicular accidents account for more than a third of all wrongful death suits, and juries in the United States frequently award plaintiffs upwards of $10 million per verdict. With both insurance premiums and jury awards rising, businesses must face the fact that one major accident could spell financial ruin. Why not transfer that burden to a major carrier with the means to bear it?
Myth #2: Private fleets mean better customer service and greater visibility
Again, not so fast. Yes, private-fleet drivers run familiar routes to familiar customers carrying familiar products, and in trucks branded and designed to function as rolling billboards criss-crossing the continent. Drivers get to know the unique service requirements of their accounts and positive customer
relationships develop accordingly. All that would give private fleets the upper hand over common carriers — if common carriers didn't share the exact same capabilities.
Dedicated carriers can also assign drivers to accounts exclusively, to function like regular employees of the hiring firms. Those drivers can run the familiar routes to the familiar customers carrying the familiar products just like private carriers would, and it's just as easy to outfit one trailer with company branded
graphics as it is another. In fact, many companies find that service levels measurably improve after a private fleet conversion…as does the company's bottom line.
Myth #3: The driver shortage hardly affects private fleets
As we are all painfully aware, a national driver shortage is one of the top challenges facing the trucking industry today. Given the variability of our economy and the advanced average age of current drivers, the situation will only get worse. This is as true for private fleets as it is for dedicated carriers. The solution? Aggressive programs to recruit and train new drivers and retain the ones already on board.
In an industry that typically faces annual turnover rates of more than 100 percent, this is no easy task. Who better to take on the challenge than large nationwide carriers with the expertise and infrastructure to develop and maintain large-scale recruitment,training and retention programs? Common carriers are rising to the occasion with innovative programs aimed at enticing new drivers to a life on the road. Advertising campaigns targeted to demographic groups not commonly represented in the industry are widespread, and economies of scale make them far less costly than any programs individual companies could launch.
The common carriers also have the advantage of existing relationships with railroad, freight brokerage and logistics companies, often lines of business of the carriers themselves. If capacity becomes an issue, they can go to Plan B…and beyond. A private fleet, in the same situation, would face a more challenging and restricted set of options.
Myth #4: Common carriers offer nothing private fleets can't do for themselves
This is a misconception that costs shippers money and opportunities to improve service every day. New technologies have opened up a brave new world for the transportation industry. From satellite communications to trailer tracking systems, shippers have options that were unimaginable just a few years ago. Better tracking and visibility cuts costs and increases customer satisfaction. Why take chances on lost or empty trailers and frustrated customers when a dedicated carrier can transform you into a true twenty-first-century shipper?
Continue reading at LogisticsQuarterly.com
"As a dedicated fleet operation we tend to handle the final miles," President and CEO Jeff Lindsay says. "We have fleets positioned at our customers' distribution centers or manufacturing sites that deliver products from those sites to their end-customers or between their facilities."Many of these fleets are even branded with customer logos, echoing the seamless service that Canada Cartage provides its clients, which include well-known names such as Home Depot, Safeway, Sobeys and Canadian Tire.Total Solution
The company owns and maintains a fleet of 4,000 tractors and trailers, which cover an array of needs – from refrigerated trucks to flatbed trailers to tankers. The company makes capital investments in new trucks when it brings on new clients and continues to upgrade its fleet for existing clients. It also maintains an undedicated fleet for transactional clients and to handle peak times for clients with contracts. "Almost every private fleet operator struggles with having trucks available to handle seasonal or monthly volume peaks," Lindsay explains. "With our mix of dedicated and non-dedicated equipment, plus our scale, we can deploy trucks and drivers to meet our customers' volume surge requirements."
Whether dedicated or undedicated, Lindsay explains that each one is fitted with state-of-the-art technology to maximize efficiency.
"Each new relationship starts with our engineers optimizing the routing and delivery schedules to maximize our customer's efficiency and lower costs," he says. "We have on-board GPS units with each truck and a customer portal that gives 24-hour access to track shipments. The final thing is that we electronically collect and monitor data so we have robust key performance indicators to provide back to customers such as pick-up and delivery times, cost-per-delivery, cost-per-mile and other metrics. We are able to constantly improve efficiencies by using the fleet and technology we've invested in."
Canada Cartage also recruits, trains and retains personnel, which, during the current qualified driver shortage, eliminates what would be a time-consuming effort for its customers.
"Everyone struggles with finding labor, especially in western Canada," Lindsay says. "We really cater to having a good environment for drivers. With our model, it's easier to attract and retain drivers because it's less long-haul driving and there's more opportunity for drivers to be home at night. So we have the benefit of attracting high-quality drivers."