Move to "asset free", dedicated fleet transport can benefit company core competency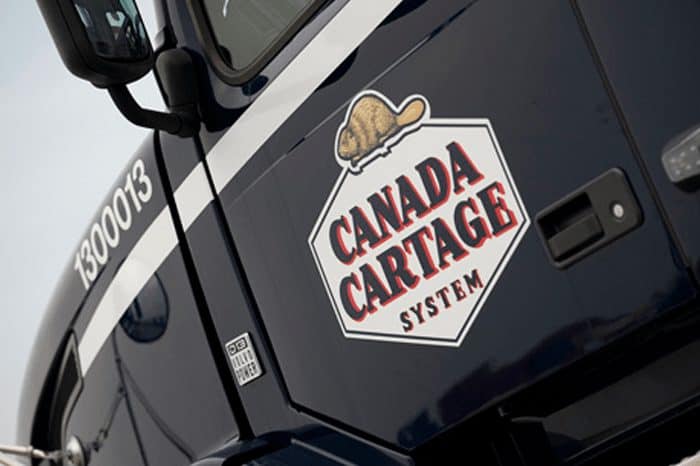 Published by: Truck News
Transportation Media and Dan Goodwill & Associates hosted the 2013 Surface Transportation Summit today in Mississauga, Ontario, featuring leading carrier, shipper and economist presentations.
In a session on Dedicated Transportation, and the outsourcing of fleet management, Jeff Lindsay, president and CEO, Canada Cartage, and Angelo Sarracini, president, Bailey Metal Products Limited, spoke about the steps they took to partner on outsourcing Bailey's fleet to a dedicated service provided by Canada Cartage.
Managing a private fleet presents many challenges for shippers.
But it's not always an easy decision to outsource, when generational differences, or feelings about retaining some control over assets and drivers are factored in.
Canada's largest provider of dedicated fleet outsourcing solutions, Canada Cartage, provides some complex final mile transportation solutions. The company partnered with Bailey Metal Products, the largest lightweight steel framing manufacturer in Canada, some 15 years ago to set up an outsourced, dedicated fleet solution.
With 4000 power units and half a billion dollars in revenue, Lindsay said that dedicated forms the core business at Canada Cartage, which is national in scope but competes against the regional dedicated carriers.
"It's quite a complex sale to convince someone to outsource," said Lindsay. Canada Cartage aims to help its clients manage the unpredictable volumes inherent to many retail operations.
"Our operating model has a hub terminal with non-dedicated assets and drivers that can be diverted to dedicated customers as needed."
Sarracini said there are four primary components to Bailey's business, which include retail for their commoditized product lines, the commercial distributor market, providing engineered wall and floor systems to developers, and steel processing.
"Because we consume quite a bit of steel, we process a large component for our own operations and for sale. It's one thing to be a good manufacturer and to have the locations but closing the loop and being able to put it on the truck and get it to the customer when they need it-that's really part of the game," he said.
The decision to sell the corporate fleet "was not a popular decision, but we thought we had the metrics. First and foremost there was a driver training and compliance issue. Tight delivery windows were difficult to execute while ensuring cost-effective truck and staff utilization."
"We used to enjoy customers having a fair amount of inventory in their warehouses and like everything in life that got downloaded to the supplier," he added.
Seasonality is less of a function now but was pretty relevant to the decision in the 1990s when construction industry had more peaks and valleys.
Strategically, Bailey felt transportation was not a core competency, but could it be trusted to a third party?
"Trucking is getting more complex," said Lindsay, "and in a very bizarre way this is driving our growth in the last 20 years," he said, when clients realize that running a fleet is just not their core business.
"There is a shedding of risk when you outsource, not just around claims but also labour risk. I'm amazed at how much unconscious risk some customers are taking around the need to run their own fleet," said Lindsay.
Building a business case around outsourcing means digging in to some of the costs that clients may not be aware of.
"Often during these fleet conversions you see that companies may not be in tune with the wage rates in the industry", Lindsay noted.
The costs around equipment and maintenance is another consideration. Usually clients carry too many assets, the wrong ones and the wrong spec, said Lindsay.
"Capital is a finite resource, and when you choose to invest in trucks, that's at the expense of other areas," he said.
Management oversight is another component, and looks at how recruiting, training, and driver management overall may distract the company from its core competencies.
In the case of Bailey, both parties agreed that a trial was the best way to assess fit and proof of concept, working through a successful pilot that led to a long-term agreement and a 160-point transition plan.
"There were a few growing pains in the beginning as we figured out what we were trying to accomplish," said Sarracini.
"We knew the kind of culture we functioned in," he added.
The drivers, who transitioned into Canada Cartage's workforce, remained in their Bailey Metal uniforms for a more seamless transformation which helped the company retain its identity in that aspect of the process.
In terms of managing volume spikes, Canada Cartage maintains some non-dedicated assets and staff which can help meet the demand.
"The first surge goes into our assets and drivers, the next surge could go into some agency associations," noted Lindsay.
"It's a tough sale cycle," noted Lindsay, especially if the scenario emerges as cost-neutral but has some potential soft benefits.