CCLS places first and second as Ecolab 3PL Partner of the Year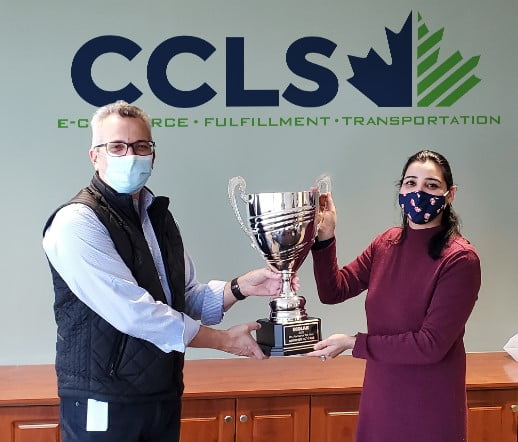 [Toronto, ON] Canada Cartage Logistics Solutions (CCLS) has been awarded both first and second place honours as Ecolab's 3PL "Partner Of The Year". CCLS provides Ecolab with fulfillment services for cleaning and sanitation supplies for the provinces of Alberta, Saskatchewan, and Manitoba from CCLS facilities in Winnipeg, Manitoba and Calgary, Alberta. The Winnipeg facility placed first and the Calgary facility placed second amongst Ecolab's fifteen different 3PL providers across North America.
The awards were given to CCLS based on a scorecard that includes order accuracy, dock-to-stock time, on-time order fulfillment, inventory accuracy, and other key performance metrics. "We've had a long, successful partnership with Ecolab going back almost twenty years," said CCLS Senior Vice President Scott Lane. "Even with the long relationship we've enjoyed, our team is committed to continuously improving our service levels with Ecolab, and these awards demonstrate the strong collaboration between our two companies." "CCLS has been a valued 3PL partner of Ecolab," said Manpreet Gupta, Regional Logistics Manager, Ecolab Customer Care Centers. "They are fast and responsive to our needs and are proactive in helping us to manage our warehouse processes more effectively and efficiently. I can't thank the CCLS Calgary and Winnipeg teams enough for their perpetual support, as the team does everything it can to keep the lines of communication open to accommodate the specific needs of our customers."
About CCLS (Canada Cartage Logistics Solutions)
CCLS (Canada Cartage Logistics Solutions) is the logistics division of the Canada Cartage group of companies. CCLS provides managed transportation and fulfillment and distribution services from facilities across Canada in all major markets, and specializes in e-commerce and rapid deployment solutions. Its parent group, Canada Cartage, was founded in 1914 and is the country's largest provider of outsourced fleet solutions, providing dedicated equipment and drivers to both small and large firms. The firm also provides general freight services and home delivery. For more information, visit www.canadacartage.com.
About Ecolab
A trusted partner at nearly three million commercial customer locations, Ecolab (NYSE:ECL) is the global leader in water, hygiene and infection prevention solutions and services. With annual sales of $13 billion and more than 45,000 associates, Ecolab delivers comprehensive solutions, data-driven insights and personalized service to advance food safety, maintain clean and safe environments, optimize water and energy use, and improve operational efficiencies and sustainability for customers in the food, healthcare, hospitality and industrial markets in more than 170 countries around the world. Learn more at www.ecolab.com