The best drivers in Canada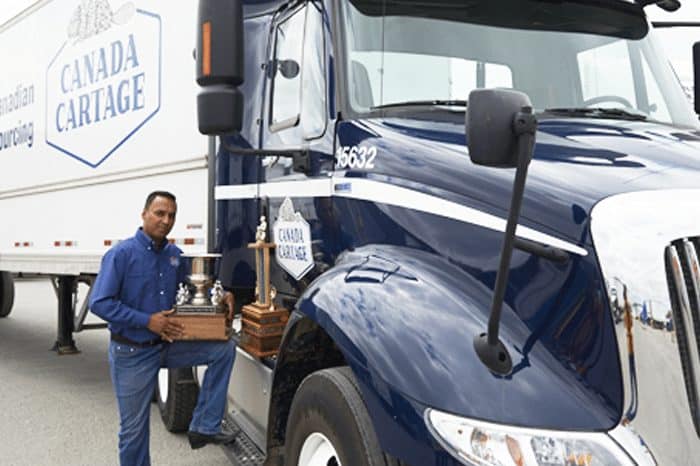 Published by Truck News September 7, 2014 ST-JEROME, Que. — The thunder and lightning wasn't the only electrifying part of the weekend – if you were in St-Jerome, Quebec, that is, where the annual Truck Driving Championships took place Thursday through Saturday.
The competition was flooded with enthusiasm, skills and of course, lots of rain. It was no secret that the best of the best in Canada came out to clobber their competition as all participants wanted to clutch a shiny trophy at the end of the night.
Much like the regional and provincial championships the competition was comprised of three parts: a written test, a pre-trip inspection and an obstacle course. As well, no driver was allowed to drive his/her truck on the course. Instead, competitors had to use the standardized truck provided for them on the course to ensure fairness. Points are awarded based on precision and accuracy while demerits can be given for mistakes like knocking a barrel over on the course. The first place winners in five classes from the seven provincial competitions (the Atlantic provinces pool their winners together to form one "province" for competition purposes) all look forward to this day after they are named the best in their province.
On Friday, all 34 competitors wrote their test, and on Saturday they put their driving gloves on to tackle the pre-trip inspection and obstacle course, one by one, class by class.
"We have straight truck, single-single, single-tandem, tandem-tandem and train. So we put five defects on the truck they get five minutes for a straight truck and eight for the other classes, to do a circle check find they five defects," said Michel Beaulac, chair of the organizing committee and instructor at Centre de formation du transport routier Saint Jérôme (CFTR), where the competition took place. "After that we take the participant to the start line so they can run the obstacle track. That's the way I planned it this year. It's just like when the do their usual day to day job, first they do a pre-trip then they go on the road."
There were seven obstacles on the course this year, all of which were in the driver's kit. Drivers had to go through a diminishing clearing setup, back up on an alley dock, and weave carefully through the serpentine among other things to show off the safety and skills of the best in the nation.
If there was one buzzword of the weekend, it would have to be camaraderie.
Even in the heavy rainfall, family, friends and volunteers all showed their support for drivers from every province. If a driver knocked over a barrel or squashed some tennis balls on his way around the track, an overwhelming numbers of "ooohs!" was heard from the sidelines. Congratulations were offered after every run, whether a driver goofed up or not.
One of the strongest performances – that received a multiple standing ovations, not to mention hoots and hollers from almost every person there after he mastered the serpentine – was put on by an Ontario-based Canada Cartage driver named Preetpal Nijjar. This was Nijjar's second time at Nationals and after his run, he looked and sounded excited about his performance.
"I think I did great," he told me moments after he got off the course. "I can't say I have any regrets at this point, but I guess I'll see once I get the results."
Nijjar said the course was very tough, but he's in the competition to learn and grow as a driver.
"I compete every year to learn more and improve my skills," he said. "I also like meeting and greeting the other professionals and sharing my safety tips with them."
Nijjar went on to win first place in the tandem-tandem class for his nearly perfect performance. His manager, Marc Moncion, the national director of safety and compliance for Canada Cartage was beaming when he watched Nijjar's run.
"I'm absolutely proud of him," said Moncion. "He did a fantastic job. He's just such a professional – everything he does, he tries his best and he's just geared to succeed and he's just exceptional."
Moncion said he believed that the championships were positive for the industry and that he hopes more Canada Cartage drivers will compete next year.
"I think it's so important for the professional drivers to get involved so it raises the level of professionalism in the industry," he added. "As well as it provides incentives for other drivers to achieve and to succeed and his is the forum for that to happen."
Beaulac added that the event is one of a kind.
"It's the only event focuses on the professionalism of the drivers," he said. "You got a lot of other trucking events, like smoke shows, but that's not good for the industry. Here, we are all talking about safety, we are all talking about fuel consumption celebrate the drivers safety and professionalism on the road."
To qualify for the championships, a competitor must be accident-free for 12 months. Beaulac said it's not uncommon for him to get a call or email from a driver who had a fender bender and be upset because a small accident means no eligibility to compete.
"They're not proud of it," he said. "They're really disappointed they can't compete here. But some of them do come out and support the other drivers even though they themselves can't be behind the wheel in the competition."
Though many of the drivers I spoke with had been to Nationals multiple times and knew the ropes, there were some rookies who got to experience the whole thing for the first time. Like 19 year old Justin Campagna from Quebec, who has only been driving professionally for a year and a half (the crowd showed him a lot of love during his run) and Aaron Kershaw, a driver for Tim Horton's in Ontario.
Kershaw has been a professional driver for 13 years and had been to provincials four times. This was his first year at Nationals and he said he enjoyed the experience. He was the first to drive the slightly altered track because he was in the train class. Instead of a three-barrel serpentine, drivers in this class had to weave through a four-barrel clover leaf.
"I had an extra pull up in the alley dock and then on the clover leaf I hit a barrel so I'll lose a few points for that," he said after his run. "I could have done better but overall I think I did alright."
Kershaw won third place in the train class for his rookie run.
After a full day of outdoor competition, the Quebec Trucking Association, who hosted this year's Nationals, led everyone to the gorgeous Esterel Resort where a swanky dinner and dance banquet where the winners were formally announced.
The 2014 National winners were as follows:
Third Place:
Straight truck: Matthias Pieper – Bison Transport – Manitoba
Single-Single: Brian Hrabarchuk – Canadian Freightways – Manitoba
Single-Tandem: Marcel Pena Gomez –FedEx – Quebec
Tandem-Tandem: Denis Roberts –TST Overland Express – Manitoba
Train: Aaron Kershaw – Tim Hortons – Ontario
Second Place:
Straight truck: Dean Grant – Agrifoods International – British Columbia
Single-Single: Evan Hirst – Independent – British Columbia
Single-Tandem: Dale Robert Scott – Fountain Tire – British Columbia
Tandem-Tandem: Robert Richard – Midland Transport – Atlantic
Train: Robert Stevens – Home Hardware – Atlantic
First Place: Straight truck: Keith Franklin – Canadian Freightways – Alberta
Single-Single: Marc Léger – Robert Transport – Quebec
Single-Tandem: Ronald Poirier – TST Overland Express – Manitoba
Tandem-Tandem: Preetpal Nijjar – Canada Cartage – Ontario
Train: Keith Atherton – SLH Transport – Saskatchewan
Rookie of the Year: Robert Stevens – Home Hardware – Atlantic
Best Team: Manitoba
Grand Champion: Ronald Poirier – TST Overland Express – Manitoba