Transportation Innovations: Zone Skipping Reduces Transportation Costs & Damages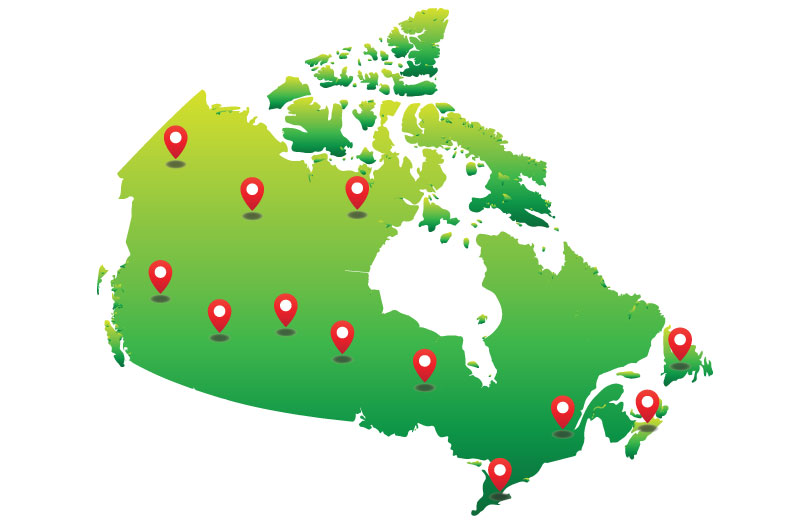 As fuel prices rise, so too does your cost of goods due to transportation increases. As a result, companies are looking for new and innovative ways to lower shipping costs, increase productivity, and retain and attract customers.
Zone skipping is an innovative way to reduce transportation costs, particularly when shipping parcels and less-than-truckload (LTL) shipments.
The Added Costs of Long-Distance Parcel & LTL Shipping
To explain how it works, let's use the example of a shipper in Vancouver who needs to send 100 parcels to various recipients in cities and towns across Ontario. In a traditional parcel shipping application, the shipper would have the parcels picked up by their courier company in Vancouver. The parcels would be inducted into the courier's network in Vancouver, and then be sent across Canada and across various courier rate zones. They may be cross-docked and re-loaded on to different trucks along the way at the courier's facilities. Crossing multiple courier rate zones drives up costs, and frequent unloading and reloading at courier cross-docks increases the changes of damages to the products.
LTL shipments work much the same way, except it is pallets of freight that are crossing multiple LTL rate zones, and often being cross-docked and re-loaded on to trucks as they make their journey across the country. Similar to parcel shipping, this drives up cost, and increases the risk of damages.
What Is Zone Skipping And How Does It Reduce Costs?
At CCLS, we use zone skipping as an alternative shipping strategy. This has saved our customers millions of dollars on shipping costs, improved their on-time delivery performance, while reducing their damages and claims.
Staying with Vancouver-to-Ontario as our example, here's how CCLS uses zone skipping strategies. When the 100 parcels destined for Ontario are ready for shipment, rather than induct them into the courier network in Vancouver, CCLS consolidates them with other parcels and LTL freight that is bound for Ontario at our facility in Delta, B.C. We then ship them over-the-road with a truckload carrier, or ship them via an air cargo carrier, such as Cargojet. By doing this, we are bypassing the courier or LTL network and their rates zones, and shipping direct to Ontario at a flat rate. The shipment arrives at one of our five CCLS facilities in Toronto, and we select the most cost-effective courier or LTL carrier option to deliver the parcel to the end-consumer. In this way, we are only shipping via one courier/carrier "zone" from Toronto to the end-point in Ontario. We are also minimizing the extra handling of the parcels or pallets, reducing the chances of potential damages, and avoiding the ancillary fees associated with extra product handling.
Zone skipping also works for international shipments. CCLS regularly uses consolidation and zone skipping strategies for cross-border shipping into and out of the United States, as well as global destinations. Besides reducing transportation costs, consolidated shipments can also reduce customs clearance fees.
CCLS Can Help You Reduce Cost and Improve On-time Delivery
At CCLS, we can help to optimize your logistics operations. With our managed transportation solutions, a national network of fulfillment centers, and technology that seamlessly integrates to your order management and inventory systems, we design and manage customized supply chain solutions for both B2B and B2C customers. And we're backed by over 100 years of transportation and logistics success as part of the Canada Cartage group of companies. Call us at 1-800-268-2228 or email us at info@canadacartage.com for a no-obligation review of opportunities that may exist within your supply chain.