Canadian Shipping & Commercial Trucking Regulations [Infographic]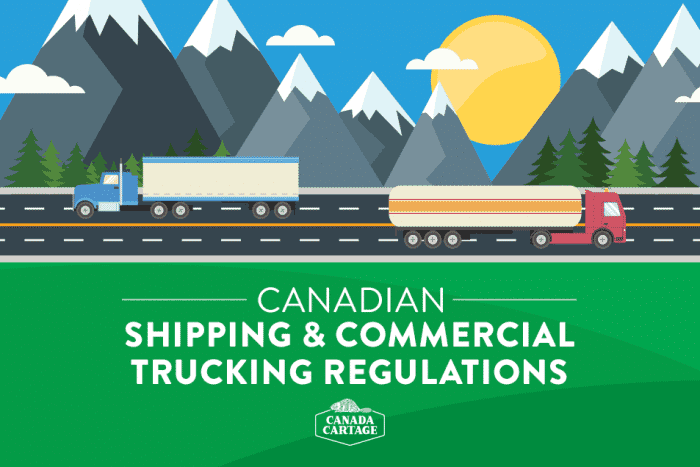 Canadian trucking regulations help govern transport across over one million kilometres of highway that cover our large country. In order to ship items quickly and safely from coast to coast, it's important to understand the road transport laws and regulations that are in place and ensure you are abiding by those laws.
Learn more about Canadian trucking regulations and view our infographic below!
Canada's Commercial Transport Regulations
The Motor Vehicle Transport Act regulates the trucking industry across Canada.
Regulations under this act include the Motor Carrier Safety Fitness Certificate Regulations and the Commercial Vehicle Driver Hours-of-Service Regulations.
The Motor Carrier Safety Fitness Certificate Regulations
A motor carrier safety fitness certificate is required by all commercial truck drivers travelling across provincial borders.
A vehicle must be certified if it is being operated for commercial purposes or if its registered gross weight exceeds 4,500 kilograms.
The Commercial Vehicle Driver's Hours-Of-Service Regulations
Canada's Hours-of-Service Regulations dictate how long a driver is allowed to operate his or her vehicle before a mandatory break is required.
Drivers are required to keep an accurate log of all on-duty hours to ensure they are abiding by hours-of-service regulations, including:
The 13-hour Rule
After accumulating 13 hours of driving time, a CMV operator cannot drive again until he or she has completed 8 consecutive hours of off-duty time.
The 14-hour Rule
After accumulating 14 hours of on-duty time, a CMV operator must complete 8 consecutive hours of off-duty time before driving again.
The 70/120 Rule
A driver must stop driving a CMV after accumulating 70 hours of on-duty driving time over 7 consecutive days, or 120 hours over 14 consecutive days.
Penalties Faced For Breaking Regulations
Breaches of Canada's Motor Vehicle Transport Act Regulations can cost up to $5,000 in individual fees, and up to $25,000 in carrier fees.
In addition to monetary fines, penalties can also include:
An out-of-service (OOS) order
Driver and carrier audit by the Ministry of Transportation
A revoked licence

View our infographic for the information you need before you head out on the road – as well as some other interesting facts about Canada's transportation industry.
Canadian Commercial Trucking Regulations Infographic

Looking for more information? Learn more about the most common Hours-of-Service Rule violations and how to avoid them.
Share this On Your Site