Building a Supply Chain to Meet Customer Expectations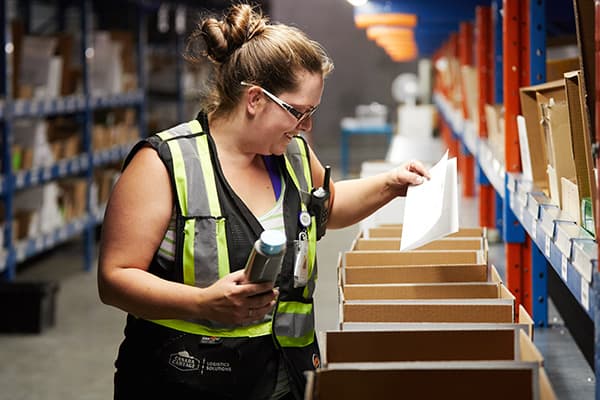 Canadian customers are sophisticated shoppers who have come to expect a certain standard when shopping online. According to Forrester, online shopping in Canada will reach roughly $39 Billion by 2019 with 75% of consumers looking for a more professional delivery service.
With customer expectations reaching an all-time high, you can expect the downstream effects to have a big impact on your entire supply chain. Here are 5 tips to help you meet customer expectations and deliver an optimal experience:
Ease of Purchase – make it very easy for your customers to purchase your products. Today, more than ever, customers have options – and a lot of them. You want to minimize the steps your customers have to take to make their purchase. Make sure you are using the latest e-commerce technology and that your website is responsive. Customers need to have the same flawless shopping experience when using a phone or tablet as they do on a computer. This will help minimize abandoned shopping carts, encourage repeat business, and avoid losing your customers to competitors.
Order Visibility – once the order is placed, the customer should get a play-by-play on where their order is each step of the way. This changes the conversation from reactive to proactive and ensures customer satisfaction. Establish clear delivery expectations on transit time and continually update for real-time visibility. A clear line of sight for your customer will build trust and improve their overall experience.
Accessible and responsive customer service – having accessible and responsive customer service representatives takes away the additional burden and risk associated with online shopping. When a customer needs help, they are looking for immediate answers. There are few things more frustrating than spending countless minutes navigating a complex automated phone system or spending 20 minutes on hold before speaking with a live agent. Empower your customers so that they feel in control and have access to the information, questions, or assistance they need. It's important to note that internal visibility is the power behind strong customer service so equip your team with the tools they need to ensure complete customer satisfaction.
Delivery to match expectations – ensure that your say-do ratio is always 1:1. Streamline your inventory management – if the customer is promised next-day or weekend delivery, then your company needs to do everything it can to have the product delivered in good shape and on-time to meet your customers expectations. The e-commerce world is 24/7 and we must align accordingly. How many of us have had to follow-up and waste time tracking down a package that didn't arrive, when it said it would? Communication is key when it comes to your customers' deliveries.
Beautiful Packaging – don't overlook the importance of packaging. Product packaging needs to represent your brand, demonstrate to the customer that the product is safe and undamaged, and that the company cares about the contents. For example, a high end skin care product might want to include tissue paper and wrapping to illustrate the value of the product. Customers often enjoy the unpacking experience witnessed by all of the "unboxing" videos you can find online.
In order to ensure a positive online shopping experience, align your priorities and strategy with your customers' and tighten up the supply chain to ensure complete customer satisfaction.
There has been a shift in recent years and e-commerce businesses need to redefine their business model to remain competitive in today's online landscape. The supply chain is the crucial last step in the customer experience – make it a seamless experience and partner with a reputable and established supply chain company that will help you plan for the future and take your business to the next level.